George Washington Accomplishments as you probably know were many and very diversified. Here we want to look behind the scenes for the why of his success. What made him a leader? He was not just a leader, he was a great leader; Why?
George Washington was born February 22, 1732 into a tobacco farming family in Virginia. He became the first President of 11 of the United States of America. Two states were late in ratifying the Constitution. They and 3 additional States were added to the Union during his Presidency. He could have become the King of America. He refused the position as King as he wanted a free independent country. His leadership was such that he was the only President of the US who was elected President – unanimously!
George Washington Accomplishments – As a young man
George lost his dad at age 11 and was thereafter mentored by his older half-brother, Lawrence Washington.
As a young person George copied 110 rules from a book that originated in 1535 called "Rules of Civility & Decent Behavior in Company and Conversations". His copy became known as "George Washington's Rules of Civility & Decent Behavior" and is still available today. It makes a great teaching tool.
At 16 he learned how to survey property which helped him later in managing his properties.
Washington joined the Continental army in his late teen years.
At age 22, in 1754, he was appointed Lieutenant Colonel in Virginia.
As the years passed George Washington accomplishments continued. He remained active in spite of his desire to remain at home. He gave up his personal self-interests to lead his country into independence and freedom. This was probably a key to his leadership skills. He thought of other's interest before his own.
He served as a justice of the peace for 14 years.
1774 and 1775 he served in both the First and on the Second Continental Congresses in Philadelphia.
George Washington Accomplishments – Military career spanned 40 years
George Washington Accomplishments as Commander-And-Chief of the Continental army resulted in victory but only after many defeats and a great loss of life.
French and Indian War Period 1756-1763
1752 Washington appointed by the Governor of Virginia as Major to the militia.
1754 Lieutenant Colonel and became Colonel Washington of the Virginia regiment in 1755 after battling with the French on the Ohio River where General Braddock died.
When he arrived in Maryland Washington heard that word had spread that he and all of his troops had perished. He quickly wrote home and said "….. by all-powerful dispensations of Providence, I have been protected beyond all human probability and expectation, for I had four bullets through my coat and two horses shot under me yet escaped unhurt, although death was leveling my companions on every side of me."
Due to his bravery and leadership Washington was now Commander-on-Chief of His Majesty's Colony responsible for defending and protecting Virginia's frontier.
1758 Washington resigned his commission. He did not return to military duty until 1775. During these years he studied British military movements, techniques and strategies.
Revolutionary War of 1775-1783
Because of his size, strength, bravery in battle, his courage and stamina soldiers found him easy to follow. When I think of his presentation in battle I immediately think of John Wayne. He was the John Wayne of his day, a natural born leader. There were failures but Washington rose above those and fearlessly led his men regardless of good or difficult situations. These qualities are what made this man a leader. He knew what had to be done. He cared for his men and for his responsibilities. Men respected who he was and how he conducted himself.
1774 he attended the First Virginia Convention and was selected as a delegate to the First Continental Congress.
1775 the British attacked Lexington and Concord MA. Together with other reasons to declare their independence these attacks were sufficient to declare war on Britain.
1775 Washington appeared in full uniform at the Second Continental Congress. He was appointed Major General and Commander-in-Chief of the colonial forces.
1776 As the war progressed England's Generals, Howe and Cornwallis planned to attack the American Army gathered in one location and defeat them. Washington liked surprises. For this battle the password was a determined "Victory or Death". Crossing the icy Delaware River Washington came from behind the British troops capturing several areas and driving the British into New York. This strategy eventually led to the defeat of the British and bolstered the confidence of the Revolutionary Troops.
Washington's training of his men together with his tenacity and skilled leadership finally resulted in victory and surrender of the British army in 1781 with the defeat of Cornwallis in Yorktown.
1798 Lieutenant General
175 years after his death he was awarded the highest military rank of the Armies of the United States.
He retired from the military in 1783 to return to his estate in Mount Vernon, VA.
Quasi-war with France
1798 Lieutenant General Washington was called by President John Adams to prepare the country for potential war. This time France posed as a possible threat.
1799 the dangers receded and Washington returned to his tobacco farm.
1976 George Washington we posthumously promoted to the highest rank in military service, General of the Armies of the United States.
For more detail on the military career of George Washington,

read

more … 
George Washington Accomplishments – After resigning as Commander-And-Chief
Washington helped in the organizing of the Constitutional Convention of 1787
1787 he was the President of the Constitutional Convention in Philadelphia.
George Washington was the first to sign the Constitution on September 17, 1787..
George Washington Accomplishments – As President
Unanimously elected President in 1789. Washington being the first President established many precedents for future Presidents. His cabinet included 4 members. Under President Washington 5 new states joined the Union: 1789 North Carolina, 1790 Rhode Island, 1791 Vermont, 1792 Kentucky and in 1796 Tennessee. The population of America was about 4 million at this time.
1789 he issued the first Thanksgiving proclamation setting aside November 26 as a national day of thanksgiving and prayer.
1789 a 6 member Supreme Court was established as was the position of Attorney General.
1790 citizenship rules were put into place.
1790, May 31 the President signed into law the Copyright Act to protect authors not only of books but also of maps and charts.
1791 was when the Bank Act was signed into law.
1791 was also the year an excise tax was placed on Whiskey which led to the Whiskey Rebellion for taking on some state debt a tax was levied on alcohol.
1794 a Naval Act was enacted and 6 frigates were ordered establishing the US Navy for protection against the Barbary Pirates.
1795 he signed the Jay Treaty to agree on trade relationships, remove British Forts and address debt owed to Britain.
1795 he agreed to another treaty. He signed the Pinckney's Treaty with the French to clarify borders and open the Mississippi River to commerce.
1776 the Treaty of Tripoli was enacted to open shipping lanes in the Mediterranean for an annual fee.
1797 President Washington vetoed the 2nd of only 2 bills he vetoed in his entire presidency. This one was to cut military size and cost.
1797 he retired from his second term as the first President of the United States.
George Washington Accomplishments – After the Presidency
George Washing enjoyed less than 3 years on his Mount Vernon estate. He took great pleasure being with Martha, his wife, and Grandfathering their 2 grandchildren. He died on December 14, 1799.
There are volumes of information that has and could be written about this American icon. His character is impeccable as a leader of leaders. He was a courageous leader who put his trust in God for his day to day life, position and duty.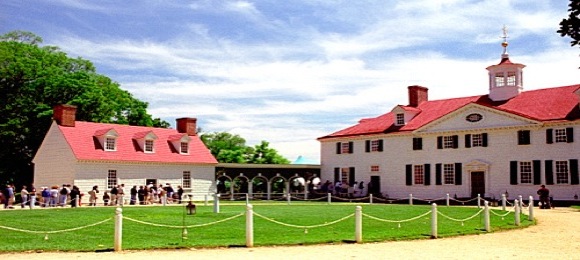 This is President George Washing's Mount Vernon Estate in Alexandria, Virginia.
Oops! No results, try changing your search!
Give Us Your Thoughts