Professor Egghead Science Academy was founded by two brothers, Shaun and Gary Tuch in 2007. From the title we can assume this to be a science franchise for kids. That is true, science and also engineering programs are offered. The age of the kids served are form 4 to 12.
Professor Egghead Science Academy is recognized for its "cool" communication with kids. Their interactive program gets kids excited about learning in general and science in particular. The experiments they "perform" in class very much appeal to kids. The program is popular with their students as well as the parents.
Operation of the Professor Egghead Science Academy Franchise
This is a program that can be administered from a home office. Professor Egghead Science Academy goes where needed. Cost of operations is considerably lower than most franchises.  Professor Egghead Science Academy serves a wide audience in varied locations. They have made a serious impact in the elementary schools in which they have held after school programs. Based in Los Angeles the program has been
used in over 40 elementary schools. They are also popular at birthday parties and with their summer camp program.
Another profitable market for the Professor Egghead Science Academy is with home school groups and associations. In fact there are many  areas where Professor Egghead Science Academy can be taught. Some community centers and neighbourhood parks are always in need of good programs. Preschools and day-care centers present even more options.
These multiple sources of income are excellent. This system allows for long term growth. Become expert in one area and then move to another to master and grow.
Most schools are open to innovative programs to enhance their own curricula. The Professor Egghead Science Academy gives schools an interactive after school "event" parents are looking for. This class gives a school an advantage by offering a cutting edge program to parents who have many other options. Parents love the idea of a class that will enrich their child's life while the child is having fun and enjoying the experience.
Innovation is a key element of the Professor Egghead Science Academy. A great deal of effort has gone into the design of their curriculum. Students in this program soon
begin thinking critically. They learn skills to solve problems early in life. Kids get excited about school as they enjoy learning science and how it works.
As students learn they pass through different levels in their scientific quests. Students are awarded certificates for achieving such levels as an Inventor or Egghead Scientist or a Detective Engineer, or  Explorer and more. Kids love it! They can even earn their own Egghead Science Degree.
Parents quickly understand the benefits their children are gaining. Professor Egghead Science Academy quickly becomes a requirement for their child's education.
… Professor Egghead Science Academy Franchising Details …
After a successful six years of operation in the Los Angeles area the Tuch brothers  decided to franchise their program. The first franchise was opened in 2014. At this writing one franchise is on the books. This is both good and bad news. Although the Professor Egghead Science Academy has little franchising experience it offers a ground floor opportunity.
The questions to clarify are; does the experience to date provide sufficient comfort to partner with them? The other critical question has to do with the program fit with a prospective buyer. Let's have a closer look the Professor Egghead Science Academy franchise. With the proper review a more informed decision can be made. Should the Professor Egghead Science Academy franchise be pursued?
Parent and School Costs of Professor Egghead Science Academy
Birthday Parties
A birthday Party starts at about $199. Cost will depend on the number attending and which experiments and options are chosen.
Summer Camp
A five day camp runs around $70 per 9 am – 3 pm day. Campers return home each afternoon.
Interactive Classes
Cost for a 1 hour after school interactive, 10 week class is about $150 per student.
Cost of the various programs is in the hands of each franchise owner. Headquarters of Professor Egghead Science Academy franchise will provide some direction in these areas.
Initial Cost when Purchasing a Professor Egghead Science Academy Franchise
In addition to the Franchise Fee there are costs to set-up shop. For example a portable mobile lab is needed. Other costs include a computer, local advertising, brochures, birthday party materials, business cards, etc. Total required is in the area of $29,500 to 39,500 which does include the Franchise Fee.
The Franchise Fee
The one-time fee for the Professor Egghead Science Academy franchise is $19,500.
Royalty Fees
Most royalties are set up as a percentage of revenues generated. Professor Egghead Science Academy currently charges a flat fee of $500 per month. Depending on how active an individual franchise is this could be very good.
Most royalty fees run around 8% of revenue. That as our base, a monthly revenue of $6,200 if paying 8% would amount to $500 per month. Those numbers work out to about 40 students in class each month. A franchise serving 80 students per month would be paying the equivalent of 4% of revenue in royalty fees per month.
Franchise Renewal
We do not like the fact that this is a 5 year renewable contract. As their experience grows changes will occur. At renewal those changes can be costly if implementation is mandatory. As a new franchise owner this may be negotiable. If an option to the current policy is granted be sure it is in writing. There are no additional fees required upon renewal.
Advertising Fee:
There is a co-op advertising program – Plan to advertise in your local territory area on a regular basis.
Advantages:
-        Being a ground floor opportunity could be an advantage or it could turn out to be a negative.
-        Cost is relatively low in relationship to other educational franchises.
-        The business model appears to be strong.
-        Having multiple streams of income is excellent.
Negatives:
-        Franchising is a new endeavour for this company.
-        The 5 year renewal period is too short.
Recommendations:
All children have vivid imaginations and love to experiment and have fun. The Professor Egghead Science Academy provides children from age four to twelve a way to learn about science in a fun filled and exciting way. With workshops, camps, parties, and after school classes to choose from, kids have many options to attend the academy. Having fun while learning and cooperating with other kids make this a good experience.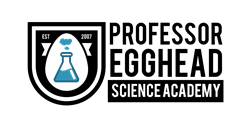 The founders are committed to add new materials every year. This will keep the program fresh and new for returning students.
Professor Egghead Science Academy can be a good business for the person with the right aptitude. This is an interactive model requiring a dynamic person who loves kids. Although the program training will take care of the knowledge needed this person should also have a love for science. And good sales qualities are a must to market the Professor Egghead Science Academy successfully. A creative person could really shine here.
We always recommend a personal visit to franchisees and the home office before any
commitments are made. The more in-depth questions asked of the companies principals the better. This activity provides a much better understanding of the character of the company.
We wish you the very best in whatever your decision.
Disclaimer:   For up-to-date changes please contact the franchisor directly.
Related Articles:
-   When considering the purchase of a franchise there are 5 MUST ASK Questions that need to be asked.
-   Character counts when striving for success. The One Great Characteristic That Spells Success. 
-   Multiple Streams of Income are very beneficial in any business.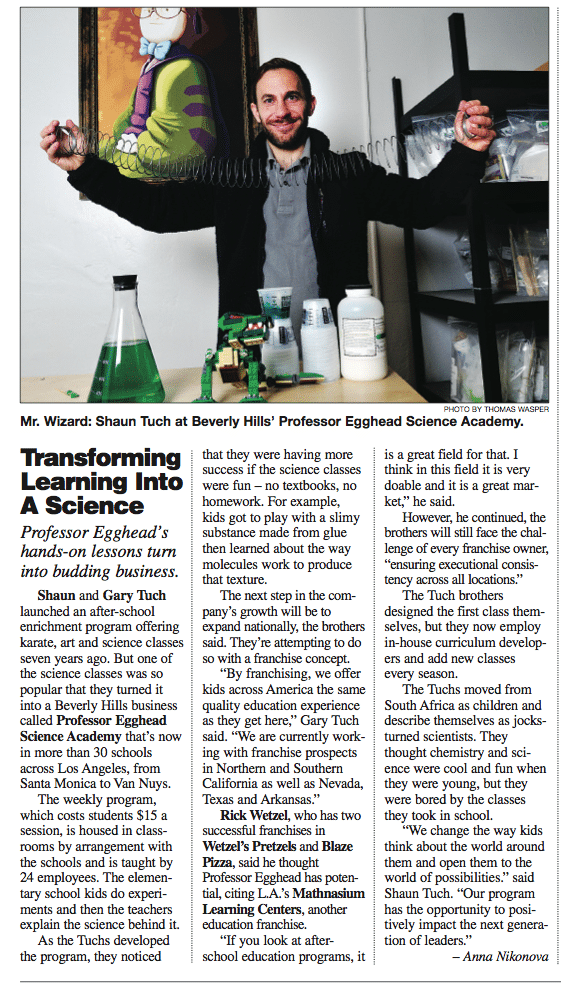 Joe Voutour is a founding member of the Vertical Rising Blogging Alliance
Give Us Your Thoughts